Director of Operations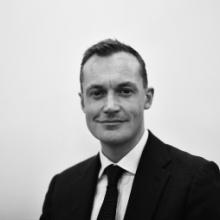 Chris is responsible for supporting the CEO to coordinate day-to-day corporate business; promoting internal policy and good practice across the organisation; developing our systems; driving change and innovation; leading on business development, planning, and delivery; and overseeing risk, compliance and facilities. He is also WFD's Company Secretary.
Prior to joining WFD in November 2018, Chris was the Chief Operating Officer at the Humanitarian Leadership Academy, a new charity started in 2015 as part of the Save the Children group, where he worked for nearly seven years in a variety of roles. Chris was a lawyer for over eight years, both in private practice and for in the charity sector, and he remains a practicing solicitor.