Valerie Vaz MP
Member, WFD Board of Governors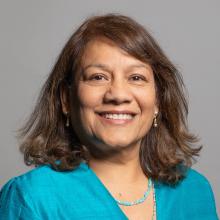 Valerie Vaz is the Labour MP for Walsall South. She was born in Aden and her family re-located from Yemen to the UK when she was ten years old.
Qualifying as a solicitor in 1984, she has worked as a lawyer in local government in London Boroughs, set up a community law firm Townsend Vaz and sat as a Deputy District Judge. From 1986-1990 Valerie was a Councillor in the London Borough of Ealing and was Deputy Leader in 1988-1989. In 2001 she joined the Government Legal Service and has worked at the Treasury Solicitors Department and the Ministry of Justice.
In May 2010, Valerie was elected MP for Walsall South representing the Labour Party, and re-elected in May 2015, June 2017 and 2019.
Valerie served as Shadow Leader of the House of Commons and member of the Shadow Cabinet from October 2016 to May 2021.
From 2010-15 Valerie served on the Health Select Committee, Regulatory Reform Committee 2010-15, Environment, Food and Rural Affairs Committee 2016, Science & Technology Select Committee 2015-16, and House of Commons Governance Committee 2014-15. Valerie was appointed to the Panel of Chairs June 2015-16. She was elected Chair of the All-Party Parliamentary Group on Epilepsy 2015-2017, and served on the Environmental Audit Committee 2021-2022. Valerie is an elected member of the Commonwealth Parliamentary Association (CPA) Executive.
In October 2019 Valerie was appointed a member of Her Majesty's Most Honourable Privy Council and received a Hon Doctor of Laws from the University of West London. In 2022 Valerie was appointed to the UK-EU Parliamentary Partnership Assembly, and became a Governor of the Westminster Foundation for Democracy.