New WFD partnership to support historic change in Burma
Burma's democratic transition was one of the most watched in the world in 2016. After over 50 years of military rule, the national parliament faces the challenge of delivering change in line with citizens' expectations.
Starting in 2017, Westminster Foundation for Democracy (WFD) will partner with Burma's legislative body, the Pyidaungsu Hluttaw (Parliament), to assist with the development of an efficient and open parliament.
Burma has suffered long periods without a sitting legislature and parliament lacks the facilities and systems necessary to support effective law-making, oversight and representation. Building the capacity of parliament to help a large number of new MPs and parliamentary staff fulfil their functions is also needed.
The WFD programme will offer expertise from the British parliamentary experience in partnership with the House of Commons, provide English language training through the British Council and help develop the systems and infrastructure a modern Parliament needs.
Under the terms of a Memorandum of Understanding signed by WFD and the Hluttaw, the House of Commons will second experienced parliamentary specialists to offer day-to-day support and coaching to committee and research staff.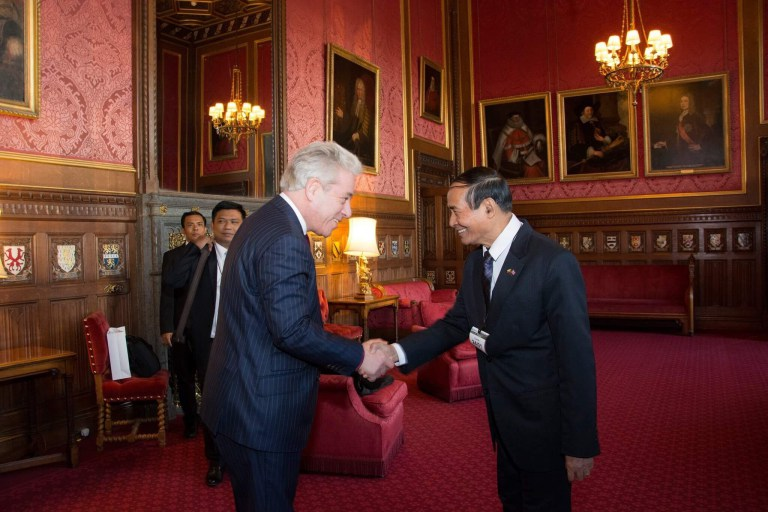 Using a combination of MPs, parliamentary staff and experts from the UK and the region, the programme will share experiences that will support the capacity of the Hluttaw in a number of areas.
To help MPs carry out legislative research and wider learning and to foster international relations, we have partnered with the British Council to provide an English Language Enrichment Programme.
We will also work with the Irrawaddy Policy Exchange to propose ways in which existing facilities can be better used, to make best use of the space.
On 23 January, the Hon. U Win Myint, Speaker of the Pyithu Hluttaw marked the beginning of this important collaboration with an official visit to the UK Parliament. The visit focused on the Westminster committee system, how Prime Minister Question Time works, and the role of the Whips office and will inform the next stages of the partnership.
Speaking at the signing of a Memorandum of Understanding, WFD's CEO Anthony Smith CMG said:
"We are honoured to be working with the House of Commons and the British Council to support the Hluttaw as it increases its skills and begins to play a full part in this country's political, social and economic development.
"The Hluttaw will play a critical role in ensuring that all citizens are properly represented, that the many policy challenges are fully debated, and that there is clear accountability by government."