WFD is the UK's democracy support organisation. For more than 30 years we have actively helped democracies to grow stronger, so that freedom and prosperity can flourish. We help solve problems of democracy so that democracies can address challenges that people face around the world – from climate change to corruption.
We draw on Britain's long history of addressing democratic challenges at home and on the diversity and dynamism of British society and politics when we engage with partners elsewhere.
We complement this with expertise and experience from other countries and institutions. Political parties and parliaments in the UK are integral to our work, drawing on their domestic and international networks for our programming.
WFD works to support local leadership, not replace it. Our partners include parliaments, political parties, electoral bodies, civil society organisations and others that are addressing critical policy and governance challenges. Our role is to provide support in a range of ways:
analysis and learning based on our own experience and independent research
mentoring and knowledge sharing by counterparts in other countries
connections with other relevant national and local leaders.
Through the staff in our offices around the world, who are local to the places where we work, we build long-term, trusted relationships that are sensitive to local politics. We work at national and sub-national levels, as well as with territories and regional bodies. Our teams provide reliable support to local partners who will lead the changes that will build democratic resilience.
Themes we work on
Our work on accountability and transparency helps make sure laws and public spending are effective and improve people's lives.
We support electoral integrity by encouraging reforms that contribute to free and fair elections and organising election observation.
Our environmental democracy programmes help bring about the action needed to address climate change.
We are helping decision-makers include and consider people who are often overlooked or discriminated against, such as LGBT+ people or people with disabilities.
We help to open up access to decision-making, from supporting parliaments to communicate with the people they represent to advising on citizens' assemblies.
We support women leaders to fully and equally participate in decision-making, an essential step in bringing about better outcomes for everyone - including women and girls.
Our programmes
WFD currently implements programmes across more than 30 countries and territories around the world. Alongside the programmes we directly implement, WFD supports the international work of UK political parties. The four UK political party programmes are: 
The Conservatives WFD Programme 
The Labour WFD Programme 
The SNP WFD Programme 
The Multi-Party Office 
WFD also implements programmes which operate across regions, such as: 
Our programme in the Western Balkans: the Western Balkans Democracy Initiative 
Our programme across the Middle East and North Africa: MENA Women 
Our Global Equality Project
Our programme on women's political leadership in ASEAN countries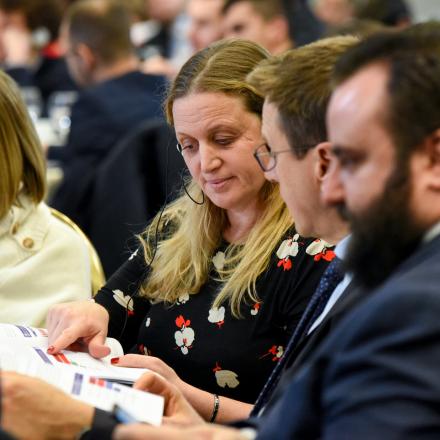 Research and policy
We produce research that aims to build an evidence base for, and improve the quality of, democracy assistance and we generate policy that contributes new tools for and approaches to democracy support. 
How we strengthen democracy  
Our strategy sets out our vision of a world in which freedom and democracy thrive, and where inclusive and accountable governments serve people fairly and effectively.   
We know we cannot achieve this alone. Democratic practices and behaviours are shaped by many actors including citizens, government, political parties, the media, civil society organisations, universities, private sector organisations and traditional authorities. Lasting change requires all these actors and more to overcome significant obstacles to achieve their goals. 
WFD focuses on supporting more effective parliaments, political parties, electoral bodies, and civil society organisations. We also work with independent institutions, such as anti-corruption commissions, supreme audit authorities, and ombudsman, media, the private sector, labour unions, and the justice system. We support them to strengthen their skills and work together to bring about greater accountability, more credible elections, improved policy making, increased citizen participation, and more inclusive representation. 
WFD offers training and expertise on democratic practices and process. We also facilitate mentoring and the sharing of knowledge. We help build relationships between democratic actors and institutions across the political spectrum.   
On behalf of the United Kingdom, we recruit international election observers for OSCE observation missions, and we carry out observation and advisory missions directly. Meanwhile, we generate research that aims to build an evidence base for, and improve the quality of, democracy assistance and policy that contributes new tools for and approaches to democracy support. 
We work to support the UK Houses of Parliament and the devolved legislatures of Scotland, Wales, and Northern Ireland in their international engagement.