Westminster Foundation for Democracy (WFD) believes that we need strong democracies to prosper and to protect our rights and freedoms. 
In a democracy, all people – no matter their identities, backgrounds, interests, or religious beliefs – should be able to take part in political life and have a say in the decisions that affect their lives.   
Democracy underpins the solutions to the major challenges of our time, from inequality to public health, climate change and rising authoritarianism.  
That is why WFD is working to strengthen democracy across the world. Since the fall of the Berlin Wall, we have been helping to make countries' political systems fairer, more inclusive, and more accountable. We do this by working with: 
Parliaments 
Political parties 
Electoral bodies  
Civil society  
Themes we work on
Our work on accountability and transparency helps make sure laws and public spending are effective and improve people's lives.
We support electoral integrity by encouraging reforms that contribute to free and fair elections and organising election observation.
Our environmental democracy programmes help bring about the action needed to address climate change.
We are helping decision-makers include and consider people who are often overlooked or discriminated against, such as LGBT+ people or people with disabilities.
We help to open up access to decision-making, from supporting parliaments to communicate with the people they represent to advising on citizens' assemblies.
We support women leaders to fully and equally participate in decision-making, an essential step in bringing about better outcomes for everyone - including women and girls.
Our programmes
WFD currently implements programmes across more than 30 countries around the world. Alongside our country programmes, WFD supports the international work of UK political parties. The four UK political party programmes are: 
The Conservatives WFD Programme 
The Labour WFD Programme 
The SNP WFD Programme 
The Multi-Party Office 
WFD also implements programmes which operate across countries, such as: 
Our programme in the Western Balkans: the Western Balkans Democracy Initiative 
Our programme across the Middle East and North Africa: MENA Women 
Our Global Equality Project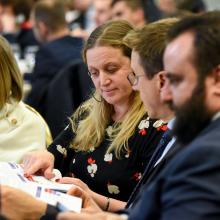 Research and policy
We produce research that aims to build an evidence base for, and improve the quality of, democracy assistance and we generate policy that contributes new tools for and approaches to democracy support. 
How we strengthen democracy  
We are currently implementing our 2017-2022 Strategic Framework. This sets out our vision as the universal establishment of legitimate and effective multi-party democracy.   
We know we cannot achieve this alone. Democratic practices and behaviours are shaped by many actors including citizens, government, political parties, the media, civil society organisations, universities, private sector organisations and traditional authorities. Lasting change requires all these actors and more to overcome significant obstacles to achieve their goals. 
WFD focuses on supporting more effective parliaments, political parties, electoral bodies, and civil society organisations. We also work with independent institutions, such as anti-corruption commissions, supreme audit authorities, and ombudsman, media, the private sector, labour unions, and the justice system. We support them to strengthen their skills and work together to bring about greater accountability, more credible elections, improved policy making, increased citizen participation, and more inclusive representation. 
WFD offers training and expertise on democratic practices and process. We also facilitate mentoring and the sharing of knowledge. We help build relationships between democratic actors and institutions across the political spectrum.   
On behalf of the United Kingdom, we recruit international election observers for OSCE observation missions, and we carry out observation and advisory missions directly. Meanwhile, we generate research that aims to build an evidence base for, and improve the quality of, democracy assistance and policy that contributes new tools for and approaches to democracy support. 
We work to support the UK Houses of Parliament and the devolved legislatures of Scotland, Wales, and Northern Ireland in their international engagement.