Progress made towards disability inclusion in Kenya ahead of the August general election
The solution to realize the achievement of PWDs rights is through political representation. WFD in partnership with Demo Finland partners with 13 political parties, 21 Disabled Persons Organizations and Civil Society organizations to strengthen inclusive multiparty democracy in Kenya.
Chapter 4 of the 2010 Kenyan Constitution – the Bill of Rights – outlines social, political, and economic rights for all persons, including women, youths, and people living with disabilities (PWDs). Kenya ratified the Convention on the Rights of Persons with Disabilities (CRPD) in 2008 among other important declarations. The convention stressed the importance of the inclusion of PWDs in governance structures as this will ensure that PWDs' issues are addressed.
The solution to realize the achievement of PWDs rights is through political representation as it involves making citizens' voices, opinions, and perspectives present in the public policy-making processes. Article 54 of the Constitution of Kenya, 2010 goes further by requiring a person with a disability to have: access and facilitation in educational institutions, reasonable access to all places, and access to device material. Additionally, at least 5% of elective and appointive positions are to be for PWDs. Political parties have a big role to play in promoting this; they are mandated to present names to IEBC to be elected/nominated.
As Kenya heads to the August 9 general elections, great progress has been made in the promotion of PWDs inclusion in politics. More so, with the inception of the Kenya Inclusive Political Parties (KIPP) programme. WFD in partnership with Demo Finland partners with 13 political parties, 21 Disabled Persons Organizations (DPOs) and Civil Society organizations (CSOs), the Kenya Disability Parliamentary Association (KEDIPA), and the County Assemblies Disability Caucus (CADICA) to strengthen inclusive multiparty democracy in Kenya. The programme also supports political parties to develop effective provisions to respond to the strategic and practical needs of PWDs within their policies, internal party structures, and political commitments.
There are commendable achievements that have been realised so far. For instance, political parties are opening up and are showing willingness and commitment to the disability inclusion agenda through the institutionalisation of disability leagues in their structures. So far, 10 partner political parties under the KIPP programme have institutionalised or activated their disability leagues. The subsidising of party nomination fees by parties has additionally resulted to increased appetite by PWDs to vie for elective positions in County assemblies and the national parliament and strategize for nomination slots as well. Parties have also undertaken a review of their internal party documents such as their constitution to include PWDs representatives in decision-making organs like their national executive councils (NEC). This is a win for PWDs as they have their voices represented at the helm of party leadership.
The adoption of the minimum standards document on the inclusion of PWDs by political parties is also another achievement. The document provides guidelines that parties should focus on to improve their disability inclusion efforts. The minimum standards document was developed through a WFD, and Demo Finland facilitated a participatory working session with representatives from disability rights CSOs, DPOs, and political parties.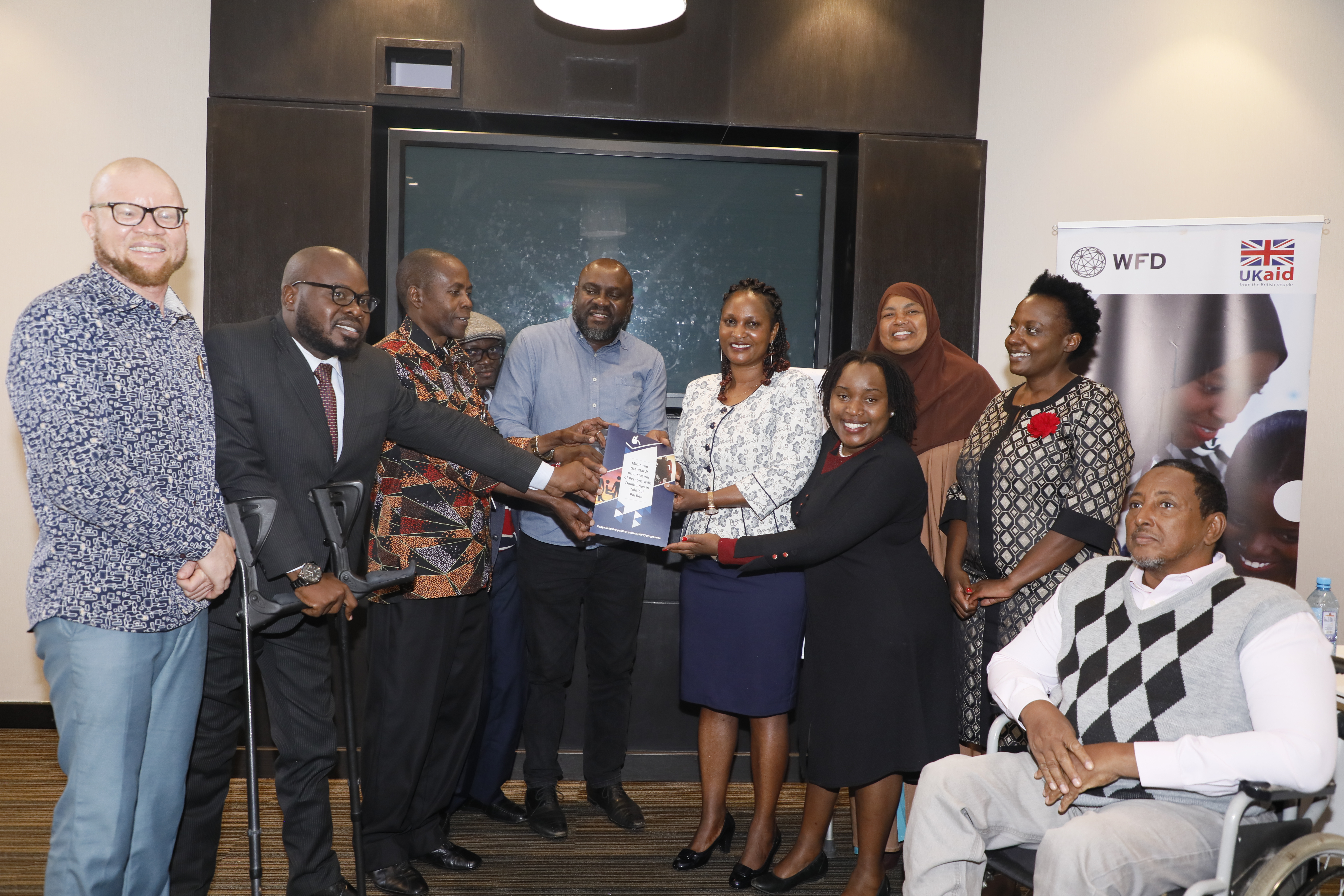 Going to the elections and with the concluded party primaries, which saw increased participation of PWDs, the focus now is on the party lists that are generated by the political parties for nomination slots after the general elections. Article 90 2(a) of the constitution of Kenya 2010 provides that each political party participating in a general election nominates and submits a list of all persons who would stand elected if the party were to be entitled to all the seats based on proportional representation by use of party lists.
With the continuous engagement with the political parties and the enticement by the Office of the Registrar of Political Parties (ORPP) to increase political funding by 10% to political parties with functional disability structures, the KIPP programme and all its implementation partners hope that the political parties will prioritize PWDs in the nomination lists leading to a higher representation of persons with disabilities in the respective assemblies.