The Sierra Leone Parliament: There's an App for that!
WFD supported the development of a free mobile app which improves the openness and transparency of the Sierra Leone Parliament. The app enables citizens to follow what the parliament is doing and get more involved in politics.
Democracy goes beyond the ballot box. For democracy to flourish, elected representatives need to be able to find out and understand the needs of the people they represent. Ways for people to find out what is going on in parliament and respond to it are just as important. In Sierra Leone, WFD has been working with Sierra Leone's Information Communication and Technology and Library Research and Documentation Departments as they find new ways to get more citizens to participate in the legislative process through technology.
The result is the "Sierra Leone Parliament" App. Westminster Foundation for Democracy supported the development of the free mobile app which aims to improve the Parliament's openness and transparency and enable citizens to follow what the parliament is doing and get more involved in politics. The app does this by creating a new way for parliament and citizens to interact with one another.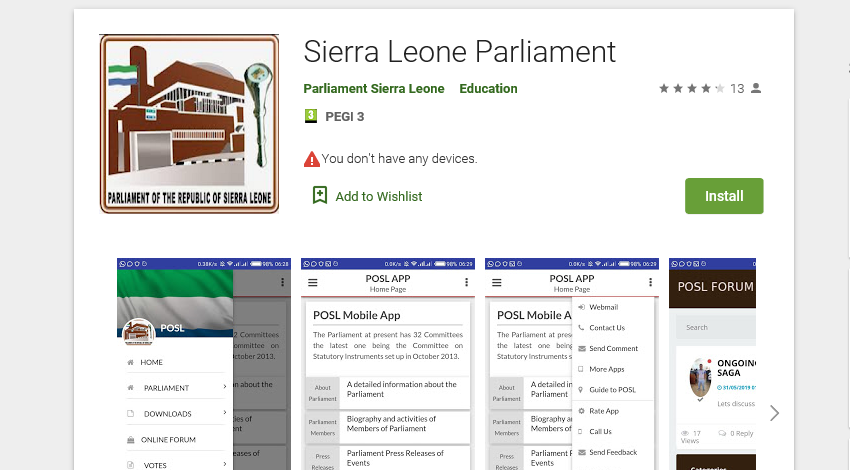 ---
On the app, users can find information about members of parliament, read press releases, research laws passed in parliament, and check out the parliamentary calendar, among other things. Soon, they will also be able to watch live video streams of the Sierra Leonean parliament through the app.
The App was launched today, Friday 4 October, at an event in the Sierra Leone Parliament. The new British High Commissioner to Sierra Leone, Simon Mustard, gave a guest address.
Watch the videos below to find out more about the App and how it works.
Introducing the Sierra Leone Parliament App
The Sierra Leone Parliament App Tutorial