Country Director, Maldives Programmes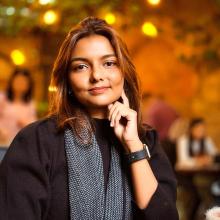 Aryj Hussain is a dedicated lawyer with a diverse background and a strong commitment to justice and social causes. She received her LLB degree from the University of Reading, UK (2013), and LLM on Social Justice and Law from UCL in 2021, and has been practicing as a licensed lawyer for the past nine years in the Maldives. Initially working as a public prosecutor in the Prosecutor General's Office, she specialized in working in cases related to sexual offences and vulnerable victims. After leaving prosecution, she started her work in corporate law and finance, but also continued to work with vulnerable groups, providing free legal assistance and taking pro bono cases for victims of domestic violence, and related offences. She was also a part-time lecturer at the Maldivian National University teaching Social work and Law, and the current vice-chair of the Law Reform and Research Committee of the Bar.
She has worked in and as a consultant to international organisations and civil society organisations in the country, focusing on programs related to human rights, criminal justice and democracy and creating legal reviews on many rights related issues such as freedom of assembly, environmental legislation etc.