Bangsamoro Representative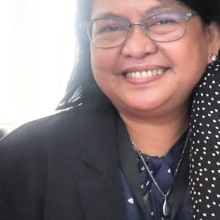 Cynthia, fondly called Tang, joined WFD in November 2021 as a part-time employee and transitioned to a full-time role on January 17th, 2022. She has accumulated over 25 years of experience in peace and conflict, humanitarian, and development aid programs in the Philippines.
A significant portion of her experience revolves around the peacebuilding program in Mindanao, starting from the implementation of the 1996 Final Peace Agreement by UNDP until its transition to the Bangsamoro Organic Law around 2012. Additionally, she has managed early recovery programs during large-scale disasters, such as the aftermath of Super Typhoons Haiyan and Pablo, while working with Plan International. Throughout her career, Cynthia has been assigned to various conflict and post-disaster settings, overseeing operations focused on people, operations, and program resources.
Prior to joining WFD, she served as a Partnership Portfolio Manager at ChildFund Philippines for over 6 years. In this role, she was responsible for overseeing the overall portfolio, including both grant and non-grant programs, in collaboration with local partners and grassroots organizations. Cynthia strongly believes in providing younger generations with opportunities to assume leadership roles and, upon leaving each organization, she strives to ensure a smooth transition by having a capable successor take her place.
Cynthia holds a license in Civil Engineering and has completed masteral units in Public Administration.