Country Director, North Macedonia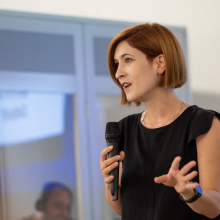 Dona Kosturanova is the Country Director of Westminster Foundation for Democracy in North Macedonia. She previously worked as programme manager for the WFD office in North Macedonia since 2019, implementing programmes directed towards increased political participation of marginalized groups. The country office is dedicated to work with institutions, MPs, civil society, political parties, and journalists on advancing democracy, participation and effective public policies.  

She is the former executive director of Youth Educational Forum, a nation-wide civil society organization conducting non-formal education, research and advocacy. She is a co-founder and former vice-president of the National Youth Council in the country, and co-founder of Radio MOF, an independent youth and citizen-oriented outlet. Though her work she has been a member or civil society networks and coalitions, aiming to advance democracy, accountability and citizens participation. She is an alumna of the European Union Visitors Program (EUVP) and the International Visitors Leadership Program (IVLP) of the US State Department.