Country Director, BiH Programmes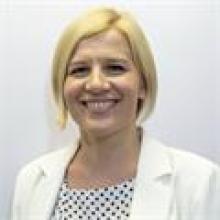 Nermina Voloder is WFD's Country Director in Bosnia and Herzegovina. In this position, she has designed and led adaptive programmes aimed at improving the representation of women and young people in BiH politics. She has extensive experience in working with various stakeholders, including political parties, public institutions, parliaments, CSOs and the media, and bringing actors together to solve concrete governance challenges.
In her work as a democracy development practitioner, she is focused on improving public policies that have direct effect on people's lives, addressing less visible dimensions of power and challenging dominant narratives. She is adept at supporting political actors from state, entity and local government levels to become receptive and responsive to citizen and CSO engagement through utilising politically informed approaches and understanding of incentives.
Prior to WFD, she worked as project manager and public policy researcher, providing analytical and policy support to public institutions to increase their transparency and accountability, as part of BiH joining the Open Government Partnership initiative.
She holds an MA in human rights and democracy from the European regional programme of University of Sarajevo and University of Bologna.