Two crucial gender equality bills passed in Uganda after years of stalling
WFD, through the FCDO-funded Commonwealth Equality Project (CEP), worked with decision makers and civic actors in Uganda to make progress towards equality.
The general principle of equality and non-discrimination is a fundamental element of international human rights law. Creating an enabling environment in which decision-makers and civil society actors can advance equality is important in promoting inclusion in society. Unfortunately, this remains a challenge in many parts of the world. In Uganda, women, girls, and members of the LGBT+ community are often side-lined. One of the reasons for this is the law: particularly a lack of gender equality legislation and gaps in the existing laws.
Fighting discrimination against these groups necessitates enhanced partnerships and engagements between lawmakers and civil society organisations (CSOs). With this recognition, WFD, through the FCDO-funded Commonwealth Equality Project (CEP), worked with decisionmakers and civic actors in Uganda to make progress towards equality.
The project built on previous work by WFD in the East African country on the development of bills concerning sexual offences; the re-entry and retention of teenage mothers in schools; and discrimination in employment. After six months of work, from 1 October 2020 to 31 March 2021, two crucial gender responsive legislations that had stalled for years were passed. The two laws that are now awaiting presidential assent are the Succession Amendment Bill and the Employment Amendment Bill.
The Succession Amendment Bill seeks to address the inequality and marginalisation of women and girls after the death of a spouse. The bill provides for gender equality in accordance with internationally accepted human rights standards. The Employment Amendment Bill on the other hand includes a provision addressing sexual violence and harassment in the workplace.
The successful passage of the two bills, in the last few months in office of the 10th Ugandan Parliament, was a result of collaborative engagement with different stakeholders. WFD facilitated discussions between decision-makers and CSOs, and with people most affected by equality legislations. The successful convening of these diverse stakeholders allowed for sharing of important evidence and direct advocacy for amendments to legislations that better serve women and girls.
In addition to the enactment of the bills, the ability to start conversations that would have been considered taboo in the parliament just a year ago is a great achievement. Being able to openly talk about issues of consent and protection of vulnerable persons shows great progress.
With a transition in parliament having taken place after the early 2021 general elections, the new members of the 11th parliament have already given positive indications of their commitment to equality. In a WFD-organized meeting, the MPs committed themselves to scrutinising legislation and policies with an equality lens and promoting gender inclusion in legislative processes. The new MPs have publicly signed a commitment board to show their dedication.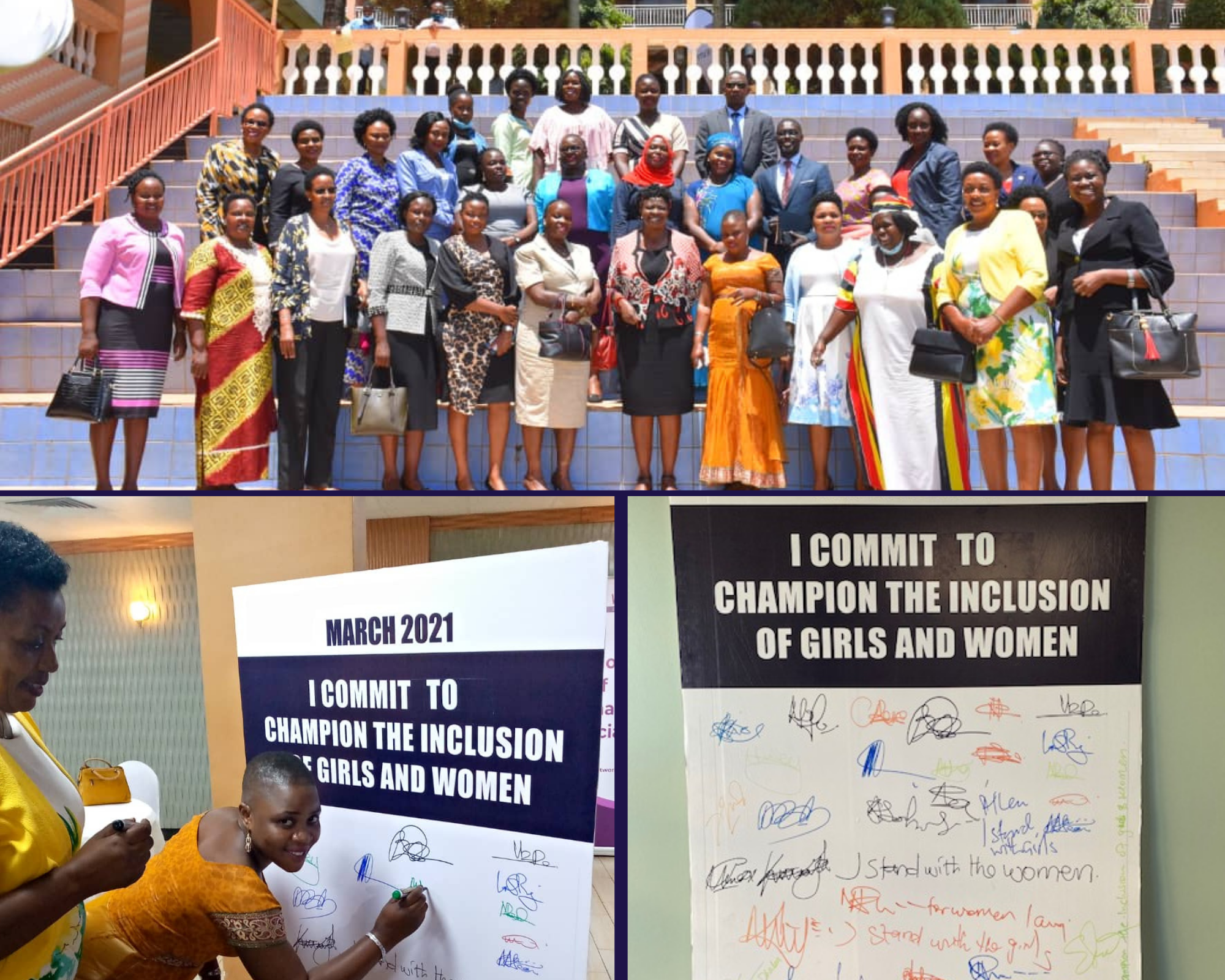 The conversation on equality in Uganda is by no means over. More work is required to ensure that key stakeholders, especially those directly affected by legislations on equality, have a seat at the table. This is particularly critical after the Sexual Offenses Bill, which contains some regressive clauses that criminalize LGBT+ people in Uganda, was passed just after the completion of CEP.
WFD anticipates that the reports produced and distributed to MPs through CEP will continue to be used as point of reference when discussing issues of gender inclusion. Civil society organisations (CSOs), including minority rights CSOs and LGBT+ organisations, can as well improve their advocacy capacities by continuing to utilise the reports and policies developed.
WFD implemented the Commonwealth Equality Project (CEP) in partnership with Kaleidoscope Trust (KT) in 16 Commonwealth Countries in Africa, Asia, the Eastern Caribbean, and the Pacific.