Advancing the inclusion of persons with disabilities in Kenyan political parties
Ahead of the 2022 general election in Kenya, persons with disabilities (PWDs) in continue to face systemic exclusion. This presents a big challenge with respect to promoting the rights of PWDs. To help address this challenge, WFD held a series of in-person and online trainings for political parties, disabled persons organizations and civil society organizations.
Kenya is heading for a general election in August 2022. With the vote slightly over a year and a half away, persons with disabilities (PWDs) in Kenyan political parties face systemic exclusion. This presents a big challenge with respect to promoting the rights of PWDs as entrenched in the international legal instruments as well as in the Kenyan laws – the Constitution of Kenya 2010. To address this challenge, WFD held a series of in-person and online trainings for political parties, disabled persons organizations (DPOs) and Civil Society Organizations (CSOs).
The objective of the trainings, which took place in December 2020 over an eight-day period, focused on supporting political parties, DPOs and CSOs in addressing PWDs inclusion. This is by strengthening and advocating for internal party structures, political commitments and policies that are in line with the practical and strategic political needs of PWDs.
The Convention on the Rights of Persons with Disabilities (CRPD) identifies PWDs to include "those who have long-term physical, mental, intellectual or sensory impairments which in interaction with various barriers may hinder their full and effective participation in society on an equal basis with others." Due to societal perceptions and attitudes, PWDs are often left out of discussions and activities including politics and decision making.
In Kenya, PWDs face numerous barriers. Some of them include social assumptions, stigma, and stereotypes. Here, PWDs are thought to be less strong to participate in politics and that they can only benefit from reserved positions. Policy implementation challenges also affect the participation of PWDs in politics. For instance, policies and legislations fail to fully consider and make provision for PWDs. In addition to that, legal barriers, such as the political parties act, not compelling political parties enough to include PWDs in their parties also play a big role in excluding PWDs.
Promoting the inclusion of persons with disabilities
The participation of PWDs in political and public life is a human right as well as an important factor that promotes inclusive development. Through the inclusion of PWDs in mainstream governance and developmental processes, their voice is heard and reflected in policy decisions. With this understanding, both the training sessions – in-person and online – were broken down into seven key themes.
The seven topics demystify disability from a human rights perspective; outline the political rights of persons with disabilities; highlight the institutional mainstreaming of disability; give the best practices for disability inclusion in political parties; monitor the accountability process of PWDs participation in political parties; illuminate the possible areas for advocating for PWDs political inclusion; and prepare potential candidates with disabilities.
Through the sessions, participants further gave recommendations on ways to improve the inclusion of PWDs in politics. First, political parties should not only have PWDs in their party membership but also involve them in political processes. This will allow PWDs an equal chance to vie for political seats and not only be offered nomination positions. Second, when advocating for rights of PWDs, it is important to first find out from PWDs what their real issues and needs are. Third, DPOs suggested that instead of looking at the disability in the person, political parties should focus on the persons skills and talents and how those skills can be useful in advancing the agenda of the political party.
Outcome of the trainings
It is expected that the knowledge shared with trainees from the political parties and DPOs will guide the development of inclusive party structures, manifestos, policies, and practices as influenced through the knowledge acquired from the training.
As a result of various engagements, including the training, five out of the 11 political parties that WFD is partnering with have signed a memorandum of understanding (MOU) to formalize the partnership with WFD towards the inclusion of PWDs in the parties.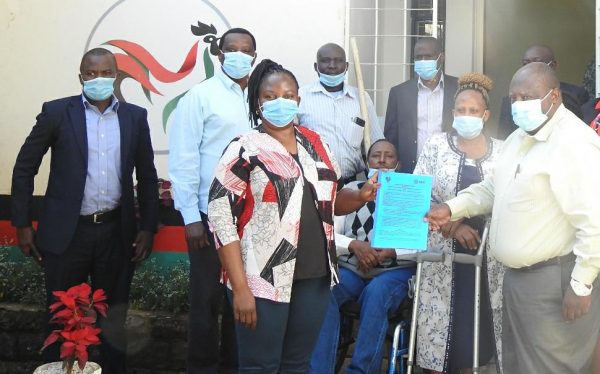 The five parties that have so far signed the MOU are: The Orange Democratic Movement (ODM), the Kenya Africa National Union (KANU), Green Congress of Kenya, Party of Democratic Unity (PDU), and the Forum for the Restoration of Democracy – Kenya (FORD – Kenya). The remaining six parties are expected to sign the MOU by the end of January 2021.
The in-person training was held at the Lukenya Getaway in Machakos County from 14th to 18th December 2020. The online sessions subsequently followed from 21st to 23rd December 2020. These training sessions were conducted under the Kenya Inclusive Political Parties (KIPP) programme in partnership with Demo Finland.