Laws, Lies and Liberty: media freedom in South-East Asia
On 11 July 2019, Westminster Foundation for Democracy organised a roundtable on media freedom in South-East Asia, as part of the UK Foreign Office's conference on defending media freedom.
The panel, which included senior government ministers and journalists from across the region, examined current concerns on media freedom, including regulation of online news and the impact of social media and fake news on political reporting. 
Maria Ressa, a journalist whose Filipino news organisation Rappler has been repeatedly targeted in a bid to clamp down on free reporting, as the government seeks to impose stronger regulations on online news spoke about the importance of transparency, suggesting it "is crucial to all kinds of reforms. The problem is local, the solution is global."
The global nature of the media today, and the speed at which content can be shared around the world on social media, shows how their role has changed society – something which the Malaysian Communications Minister HE Mr Gobind Singh Deo also acknowledged: "People used to say the pen is mightier than the sword – today's media can be more powerful than both".
While panel members were optimistic at some of the proposed changes happening in countries such as Indonesia and Malaysia, it was also acknowledged that across the region there has been a decline in press freedom, as shown by the latest press freedom index.
Criminal law, often from the colonial era, is being repeatedly weaponised to target journalists and limit free and fair reporting in many countries.
Myanmar is one example of this. Panellist Sonny Swe, the founder and CEO of Frontier, a news organisation, said that "as we don't have proper laws in Myanmar, we can always get the maximum penalty for uncovering the truth."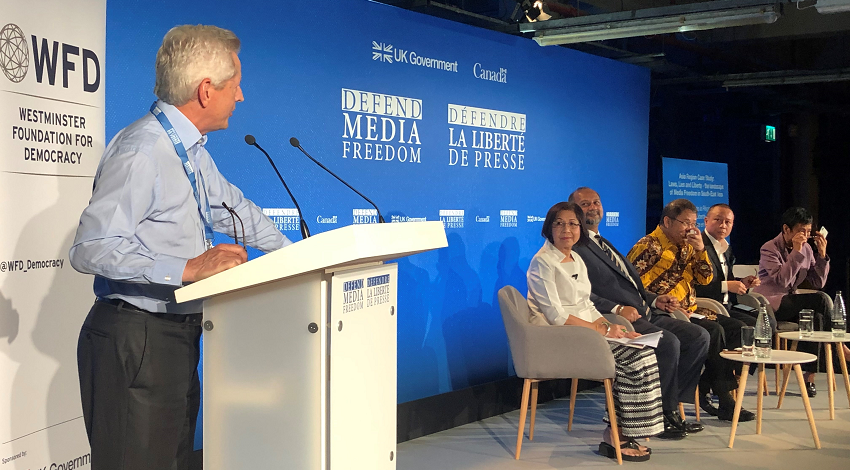 This is what happened recently to two Reuters journalists in Myanmar, who were jailed for over 500 days for their reporting on the Rohingya crisis.
Journalists safety is being threatened by a range of factors – restrictive reporting laws, reprisal from purveyors of online hate speech, and risks from reporting of corruption and organised or state-sponsored crime. Last year alone 95 journalists were killed worldwide.
The safety of journalists and accuracy of what you see, hear and read are things we should never have to take for granted, and in this fast-paced interconnected world, it is becoming increasingly hard to separate fact from fiction.
Indonesian Communications Minister Mr Rudiantara is looking at new ways to deal with balancing the safety of journalists and citizens, with wider concerns around free speech and preventing violence incited by hate speech and fake news. He said that conversations about the new law were ongoing with the Indonesian Press Council.
However, the discussion also raises the important point that some posts can be viewed in different ways from different points of view. "One man's terrorist is another man's freedom fighter" is how Maria Ressa put it, saying that while posts can sometimes be interpreted in different ways, there is a responsibility to protect when they incite violence putting people's lives at risk.
Overall, these differing backgrounds and viewpoints helped contribute to a lively and rewarding discussion for both participants and the audience alike. If you are interested in listening to the session in full, you can find it on the Foreign Office's Youtube account.