Country Representative, Lebanon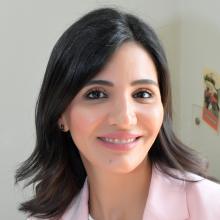 Hasnaa is WFD's Country Representative in Lebanon. She joined WFD in January 2011 as Programme Manager. Hasnaa is responsible for leading WFD's programmes in Lebanon through consulting and working closely with the Lebanese Parliament and other democratic institutions. She is also actively involved in identifying funding opportunities, bringing political insight and technical leadership to the programmes, representing WFD in Lebanon, and ensuring the smooth operation of its office in Lebanon.
Prior to her work in WFD, Hasnaa worked as Programme Director at the Arab Region Parliamentarians against Corruption – the Arab chapter of the Global Organisation of Parliamentarians against corruption (GOPAC). She has a background in law from the Lebanese University/French Section Filiere Francophone.