Country Director, Uganda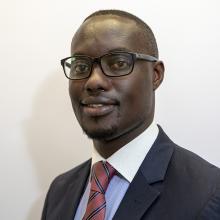 Munyangabo joined WFD in 2017 and is the Country Director for Uganda. He leads the overall strategic direction and management of WFD's Uganda portfolio.
Joseph is a development professional, democracy, and good governance specialist, and a renowned public policy analysist who has managed a range of democracy strengthening programmes. For example, programmes on legislative and political party strengthening; youth and gender inclusion; people with disabilities' (PWD) participation; campaign planning and management; local governance coordination; conflict resolution; civil society coordination; and subnational governance.
Before joining WFD, Joseph worked as the Senior Technical Advisor and acting Deputy Resident Country Director to the International Republican Institute. In this role, he was responsible for designing and implementing capacity building programmes. This includes the USAID Political Party Competition and Consensus Building program, which strengthened the organisational and policy making capacities of civil society and political parties in Uganda between 2013 and 2017.
Joseph holds a master's degree in international relations and diplomacy from the University of Witwatersrand South Africa. He also served as junior lecturer at the University and was a member of the Former African Presidents Round Table Policy working group. A group that developed policy framework papers to guide the annual former African Presidents round table meetings.