Advancing democracy in The Gambia through women's leadership
WFD in partnership with the Community of Democracies worked in The Gambia to help women leaders navigate the challenges they face and bring about more inclusive democracy in the country.
Democracy cannot live up to its promise if part of the population is not adequately represented in leadership – be it in politics or in any other aspect of life. Regrettably, women, persons with disabilities (PWDs) and young people are often excluded from leadership in most parts of the world. WFD is working to change this. Most recently, we worked with Community of Democracies in The Gambia to help women leaders navigate the challenges they face and bring about more inclusive democracy in the west African republic. 
In The Gambia, women represent more than half of the population (50.5%). Women also comprise a majority of all Gambian registered voters by about 58%. Despite this, the political arena in the country is largely dominated by men.  
Out of the 58 members of the Gambian National Assembly, only six are women. On the cabinet level, there are only four women among 23 ministers. The challenge of inequality in politics does not stop there, it runs down to the local leadership level where women constitute only eight out of the 120 councillors in the country. 
Women are also underrepresented in relevant positions within political parties and the civil service. For instance, out of the 16 currently registered political parties, none has a woman party leader. What is more, most women are active in political parties as supporters, mobilizers, and voters – not decision-makers. 
Hurdles to the realization of women political leadership 
Gambian women are raring to occupy more leadership positions in politics. However, long-standing barriers have ensured that women are excluded from active political participation and leadership. 
Neneh Freda Gomez, a founder member of the Citizen Alliance party, deplores the situation of Gambian women being excluded from politics. Saying: 
"We are in this situation because we are made to…women are never factored in when men sit to plan and make political decisions." 
The barriers to women's equal participation in politics are structural, socio-cultural, and institutional. Most women in the Gambia remain uneducated, the poorest and the most politically disempowered due to societal norms that favour men over them. 
The Gambia is generally a patriarchal society. Socio-cultural barriers do not encourage women to lead. What is more, violence, or threats of violence often serve as obstacles to women's political participation. Such violence takes a variety of forms including character assassination and defamation, harassment, insults and slander, sexual violence, assault, as well as targeting of relatives and supporters. 
When it comes to institutional barriers, women are often excluded in leadership due to a lack of, or inadequate appropriate policies, laws and institutions that prohibit discrimination; inefficiency and the limited capacity of state institutions to mainstream service delivery to women; minimal enforcement of policies and laws that advocate for women's political participation rights; and  a lack of data and follow-up measures that monitor and evaluate mechanisms that track the implementation of current reforms meant to empower women. 
Strengthening women political leadership 
Women are an integral part of society. A report we conducted on the impact of women on democracy – together with the Global Institute for Women's Leadership – shows that when women take part in politics, the whole of society benefits. Women in leadership ensure progress in economic growth and development in areas such as health, education, and infrastructure. 
At WFD, we are committed to working towards greater access and inclusion of women in politics. To advance this cause, we partnered with the Community of Democracies in conducting a three-day leadership workshop – from 16th to 18th November 2020 – in The Gambia.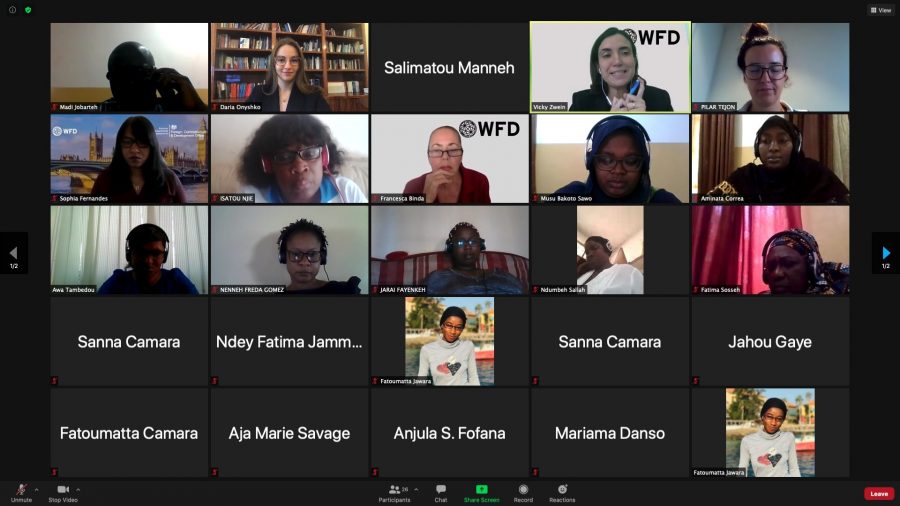 The virtual workshop focused on strengthening the participation of Gambian women in politics. WFD and Community of Democracies trained 20 women, comprising leaders and prospective political leaders, on how to become even more effective leaders and make the most of their skills and talents.   
Through the training, the participants gained access to knowledge, skills and strategies that can be used to challenge persistent barriers to women active political participation and leadership in The Gambia. The anticipated outcome is to see more Gambian women engage effectively in competitive political environments and systems of governance. 
In our continued commitment to strengthening women leadership, WFD in The Gambia will hold another workshop in January 2021. The second workshop will offer training on effective communication to the same 20 women participants.