Interview: Rose Sakala reflects on her party's Presidential election victory in Zambia
WFD's Multi-Party Office (MPO) talked to a senior representative from the United Party for National Development (UPND) following her party's electoral victory in Zambia. We asked her about the results, her role within the UPND, and her aspirations for women's political leadership within the new UPND government.
On 15 August, Zambians elected a new Government led by the former opposition leader, Hakainde Hichilema of the United Party for National Development (UPND). It was the third peaceful handover of power from incumbent to opposition since the country's independence in 1964.
WFD's Multi-Party Office (MPO) has supported UK political party the Liberal Democrats to undertake international engagement and development programmes around the world.
Through our partnership with the Africa Liberal Network, WFD's Liberal Democrat programme has been working with the UPND for over 15 years, since the early 2000s when it offered the party media and campaign training. More recently – since 2019 – the programme has been running the African Liberal Network Women's Leadership Programme. The programme focuses on building the confidence and skills women need to take up positions of leadership as well as networking and providing senior women mentors.
Three senior representatives from the UPND who represent different communities within Zambia have taken part in the programme: Rose Sakala, Stenah Shampile and Ireen Ngenda.
Following participation in the programme, Rose Sakala has continued working to support and promote women's political leadership, organising trainings for women members of UPND, working with local party leaders to encourage women's participation in the party's main structures and looking at inclusion issues in her role as Africa Liberal Network's Vice President for Southern Africa.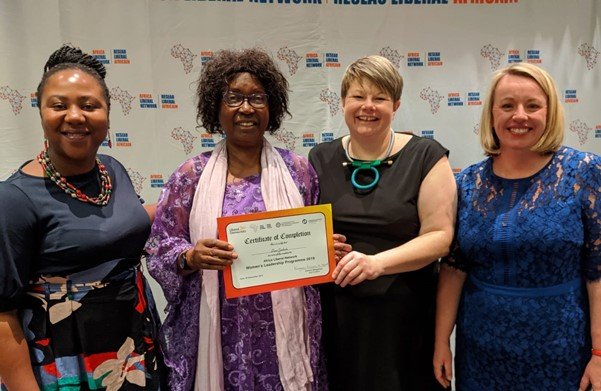 Our Multi-Party Office (MPO) talked to Rose following her party's electoral victory and asked her about the results, her role within the UPNF and her aspirations for women's political leadership within the new UPND government:
MPO: Congratulations on your party's electoral success. Could you please tell us about how women's leadership within the party helped bring about this achievement?
Rose: The women played quite a significant role. As you know women know more about issues, because they live those lives – the social economic lives. So, what our party leadership did was to establish a women's presidential campaign team whose objective was to target women voters … This was in addition to the women's committee, which worked separately. The leadership in the women's committee also went out country wide to woo support, not only from the women but from the community at large. So, a combination of the leadership from the two groups played a very significant role in wooing voters.
MPO: What has been your experience of the women's leadership programme and how has the experience helped get you to where you are?
Rose: I must start by saying thank you very much to Westminster Foundation for Democracy, the Liberal Democrats, [and] FNF for providing support for that programme. It was a very unique programme, in the sense that it made me realise that the patriarchal views that are so embedded in our system shall not go away soon and that it is up to us as women to try to work within this environment and assert ourselves. By strategizing in such a way that we are heard, we don't wait to be invited, we are able to apply our skills and knowledge in a very assertive way. Only when our skills are recognized will the rest of the team, mainly that composes of male leadership, are we going to be on board.
MPO: Despite the party's success, few women have been elected. We know that this is partly to do with patriarchal views about women and partly because women don't have access to the same financial resources as men. What do you think needs to change to ensure women's equal representation in decision-making in Zambia?
Rose: Part of that is already in motion: we have a constitution in my party that allows for 50-50 participation. I realise that is not enough because of other constraints. Going forward I would say, for example for cabinet positions, we shall have to review the constitution for things to improve – such as may be bringing about proportional representation, we can have more women appointed by the party since our constitution allows for 50-50. But beyond that, the current constitution constrains the President to pick members of the cabinet only from those that are in parliament and very few from outside parliament. Our President is one of those who has been advocating for the cabinet that is outside the parliament; I hope going forward the constitution will change to allow for that.
MPO: Is there any other measures that you think could be brought in to help boost women's representation in decision making inside the party and outside the party?
Rose: I would like to see more women being trained, more women being exposed, more women begin to hold positions not only at the highest level but even at the lowest level, because it is at the lowest level that they are trained … So far in this country we don't have a single woman who is chairing a constituency or ward committee. So, I would like more training at that level because that is where the leadership starts from, that is where majority of our people live, and that is where most of the social-economic problems play out.
MPO: What are your aspirations for women's leadership within the UPND government?
Rose: I am very supportive of women's leadership; I am glad that we already have a Vice President who is there not because she is a woman, but she has capacity. My aspiration is that for those women who have the capacity, much more should be done to ensure that they take up leadership positions. To do so, I think the party needs to engage more with women even when we are in government. Because quite often is when you are in government that everything is lost out and yet the party should remain the engine. So, if more women remain in the leadership, it will enhance the participation of women in government or in parastatals because the women will remain a pool from which we can draw leadership.
---
This is the second part of a two part series interview. Read our interview with Stenah Shampile.