Interview: Stenah Shampile reflects on her party's Presidential election victory in Zambia
WFD's Multi-Party Office (MPO) talked to a senior representative from the United Party for National Development (UPND) following her party's electoral victory in Zambia. We asked her about the results, her role within the UPND, and her aspirations for women's political leadership within the new UPND government.
On 15 August, Zambians elected a new Government led by the former opposition leader, Hakainde Hichilema of the United Party for National Development (UPND). It was the third peaceful handover of power from incumbent to opposition since the country's independence in 1964.
WFD's Multi-Party Office (MPO) has supported UK political party the Liberal Democrats to undertake international engagement and development programmes around the world.
Through our partnership with the Africa Liberal Network, WFD's Liberal Democrat programme has been working with the UPND for over 15 years, since the early 2000s when it offered the party media and campaign training. More recently – since 2019 – the programme has been running the African Liberal Network Women's Leadership Programme. The programme focuses on building the confidence and skills women need to take up positions of leadership as well as networking and providing senior women mentors.
Three senior representatives from the UPND who represent different communities within Zambia have taken part in the programme: Rose Sakala, Stenah Shampile and Ireen Ngenda.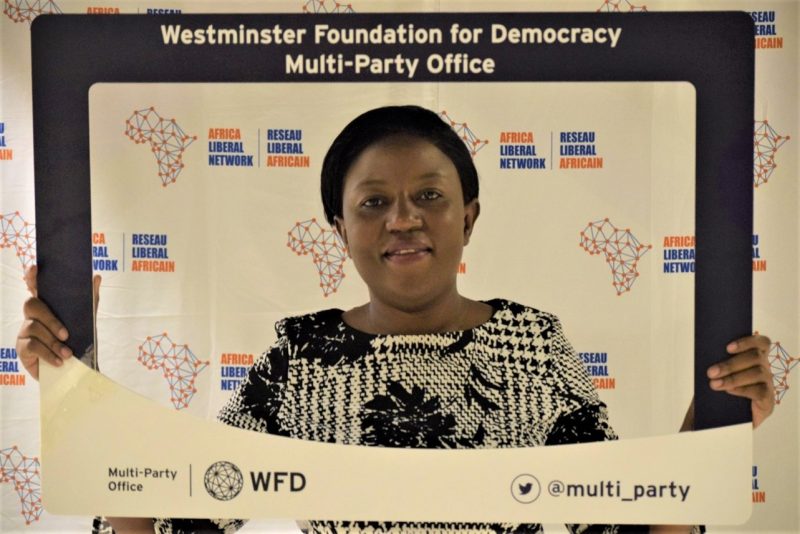 WFD's Multi-Party Office (MPO) talked to Stenah following her party's electoral victory and asked her about the results, her role within the UPND, and her aspirations for women's political leadership within the new UPND government:
MPO: Congratulations on your party's electoral success. Could you tell us about how women's leadership within the party helped bring about this achievement?
Stenah: We saw a lot of women coming forth in terms of how to plan the elections, how to protect the vote and how generally women could then contribute to our winning of elections … In the campaign teams, we saw quite a number of women supporting each other and supporting the men. In my own analysis I saw that women were more involved, under difficult circumstances, but they still contributed quite a lot in making it possible for us to win this election.
MPO: What has been your experience of the women's leadership programme and how has the experience helped get you to where you are?
Stenah: The women leadership programme taught us quite a lot. In terms of where I am, currently serving as the vice chairperson of the International Relations Committee, there are many skills that I learnt from the programme such as communication skills – where you are able to communicate your issues with confidence within the committee. The programme also taught us how to relate with members of the community and the party at large.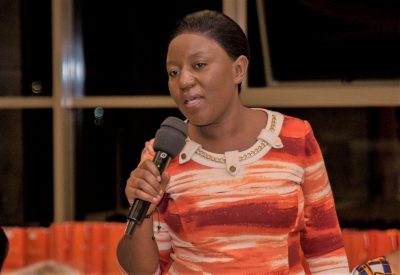 MPO: Despite the party's success, few women have been elected. We know that this is partly to do with patriarchal views about women and partly because women don't have access to the same financial resources as men. What do you think needs to change to ensure women's equal representation in decision-making in Zambia?
Stenah: Deliberate policies should be enshrined in the constitution and those must be met. If we have to achieve the numbers that we are looking for, it means we need to reserve certain positions and certain numbers for the women and then the rest must be competitive. Otherwise at the rate at which we are going, where we have to fight for gender equality and if you are a woman you are viewed as somebody who is not capable as a man – because of our culture – and secondly you don't have the financial muscle that the men have, I think it will just be lip service if we continue with the same kind of mentality to say women must compete and must prove that they are able to compete favourably with the men. If anything needs to change, then those positions must be reserved for the women. I am not saying that we must therefore not compete, but for us to achieve what we want, I think we must then say those are deliberate policies until we have a level playing field. In terms of finances … if we have organisations that are going to support women, I really think that we are going to have more women participating in politics and winning.
MPO: What are your hopes for the broader championing of women participation in leadership within the new government?
Stenah: The fact that we have fewer MPs within the party, I hope that in terms of positioning within cabinet we will see a balance of men and women, and probably more women because we don't have so many women in parliament at the moment … We do have a lot of capable women, but the environment has been hostile on our part, and so the only sort of last result that we have is to see how the new government will look at the issues of gender parity and how to bridge that gap going forward.
---
This is the first part of a two part series interview. Read our interview with Rose Sakala.