31 May 2023
Authors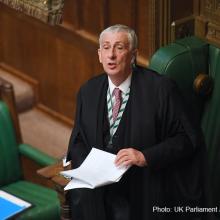 Sir Lindsay Hoyle MP
"A historic and fulfilling mission"
Foreword to Westminster Foundation for Democracy's Annual Report and Accounts 2022-2023 by Rt Hon. Sir Lindsay Hoyle, Speaker of the House of Commons and WFD's Patron
This year, we mourned the loss of my ground-breaking friend, Baroness Betty Boothroyd, first woman Speaker of the House of Commons and champion of democracy.
In October 2022, when I hosted a reception in Parliament to celebrate WFD's 30th anniversary, I recalled her words in WFD's first ever annual report. She said: "Overcoming years of totalitarianism poses real challenges to any society. And yet returning power to the people is a historic and fulfilling mission and one which will be of lasting benefit to humanity."
Thirty years later, her words have scarcely been more relevant.
This was never clearer to me than when I welcomed Ukrainian President Volodymyr Zelensky to Westminster Hall in February. We recognised his people's struggle to defend their democracy against authoritarianism. Following thunderous applause from Members of Parliament, it was unforgettable to hear him declare "we know freedom will win".
As I said on that historic day, the UK and Ukraine will always be united in our unwavering belief in the power of democracy. In his speech, President Zelensky praised the UK's leadership in supporting Ukraine, and I must add my recognition for the excellent support WFD continues to deliver to Ukraine's parliament, the Verkhovna Rada, despite difficult conditions.
As I write this foreword, we mark the 25th year of the Good Friday Agreement. In 1998, Betty Boothroyd was awarded the Freedom of the City of Belfast for her efforts to promote peace and reconciliation in Northern Ireland. She saw her role as "providing a neutral space for dialogue and encouraging people to listen to each other".
This is an important reminder of the role of parliaments in securing peace. Parliaments are the cornerstones of democratic governance, and following conflict they are critical in helping peace and prosperity to take root. That is why WFD works to support parliaments around the world. 
Democracy is threatened globally. In this context, WFD's mission to mobilise British and international expertise to strengthen democracy is vital. This year, I was fortunate enough to see WFD's work in action in Indonesia, where the team are supporting the parliament to raise the ambition of Indonesia's climate action. I know my fellow members of both Houses of Parliament have shared their time, experiences, and expertise to support WFD programmes around the world and I thank them for their ongoing contributions. 
Strengthening democracy needs all of us. Betty Boothroyd understood that. Today, as WFD marks 30 years of strengthening democracy around the world, I am honoured to follow in her footsteps both as Speaker of the House of Commons and as Westminster Foundation for Democracy's Patron.