01 February 2023
Authors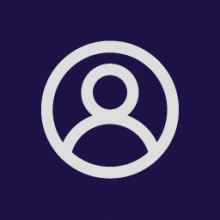 Wurie Bah
Advancing women's political inclusion in Sierra Leone ahead of the June 2023 general elections
General elections in Sierra Leone will be held mid-2023. However, there still exists deep gender imbalances in the country's political context. From prejudices against women's leadership to political and traditional barriers that continue to threaten women's political participation and inclusion.
The political space in Sierra Leone is male dominated. Out of 146 MPs in the current parliament, only 13 are women. In the 2018 general elections, there was only one-woman candidate vying for the presidential seat and one contesting as a running mate. This picture portrays a clear need for initiatives to promote women's political leadership to achieve equality in the political space. According to research, when women are able to exercise political leadership, there are gains not just for women and girls but for the whole of society.
Recently, the Gender Equality and Women Empowerment (GEWE) Act of 2022 was assented into law. The passage of the act is a welcome development that seeks to advance women's rights in Sierra Leone. The law requires public and private employers to reserve 30% of jobs for women, including leadership positions. It also stipulates that 30% of candidates put forward by any political party for parliamentary and local elections must be women. Additionally, it extends maternity leave to 14 weeks, mandates equal pay, and grants women equal access to financial support and training opportunities.
Even though the act was recently assented into law, women in Sierra Leone are still pushing for more affirmative action. This includes a proposal to have more seats reserved for women in political leadership – a matter that is still under discussion in parliament. The growing push by women is an opportunity for more women take part and be elected in the coming general elections.
To help support this cause, WFD in partnership with Campaign for Good Governance and the Parliament of Sierra Leone facilitated a day long knowledge orientation and sharing seminar. The forum was conducted for over 400 women in elected positions and those aspiring to be elected in Makeni and Kenema towns. The seminar gave these women the platform to build their level of confidence to face the challenges associated with election and national politics.
The participants gained knowledge from the experience shared by various women leaders and successful politicians. Key among them was Hon. Loloh Tongi, Member of Parliament for Constituency 001 in the Eastern Province of Sierra Leone. Hon. Tongi shared her political experience with the women in readiness for the June 2023 general elections. She also highlighted the challenges that would hinder their chances of winning elective positions.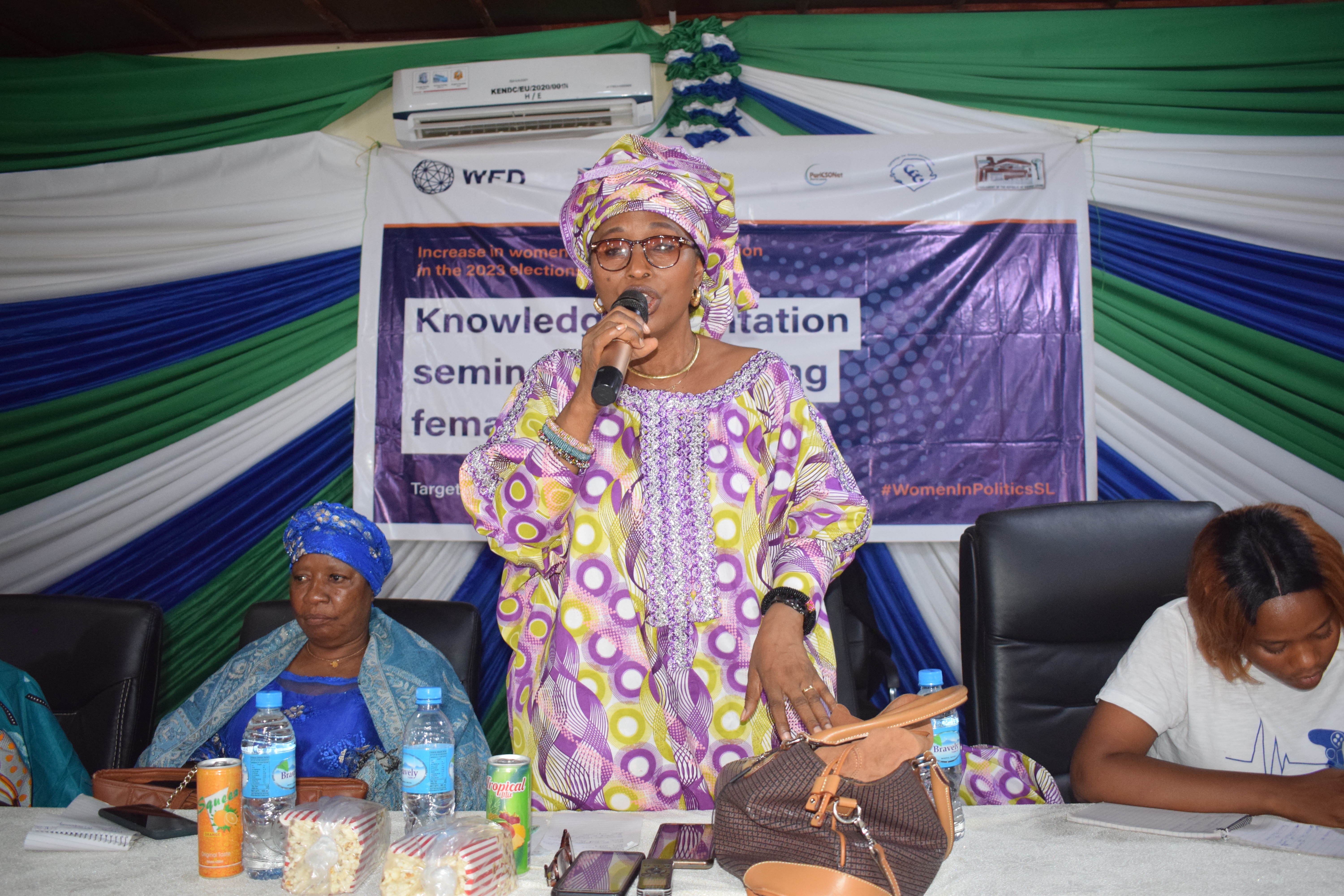 The seminar also hosted experts from parliament, local councils, the Electoral Commission, Political Party Regulatory Commission, and civil society. These panels shared practical pathways to achieve the 30% women's representation on all public, private, and elected offices in Sierra Leone as contained in the 2022 GEWE Act. Practical questions and recommendations clearly highlighted the need for more such engagements, as well as having an abridged version of the act and possibly translating it to local dialects to help more people understand it.
Through the seminar, it was apparent that women were prepared to run for elected positions in Sierra Leone. The forum also provided an opportunity for dialogue. The participants were able to share their concerns and get responses from the Electoral Commission on the Proportional Representation System. The system allows political parties to select those that will represent them from across the 16 districts in Sierra Leone.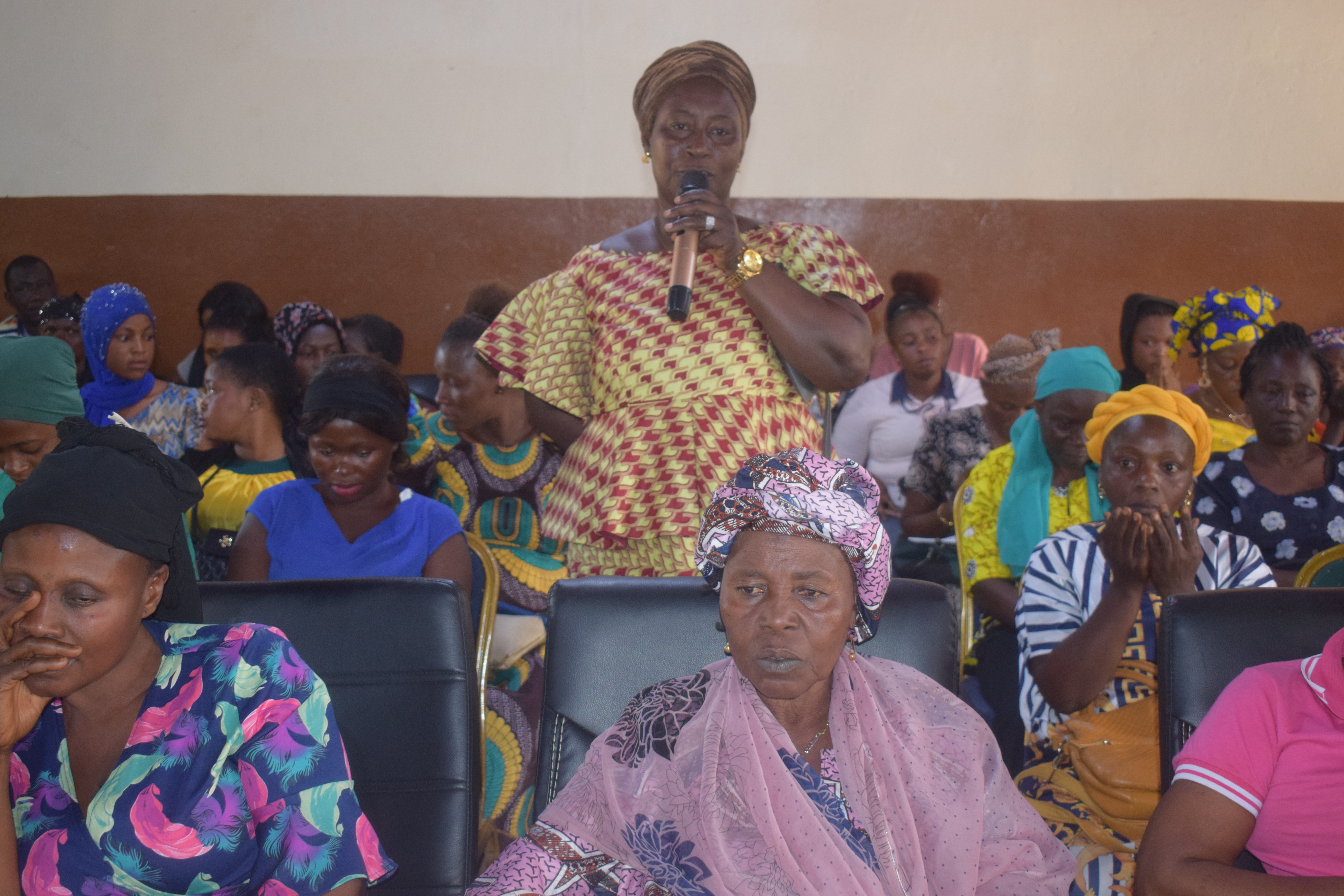 This is the first phase of the women in politics drive. WFD Sierra Leone is now moving to strengthening the capacity of women leaders on a regular basis. Building on the skills they have learnt from this platform, WFD will support them by demonstrating soft approaches to electioneering challenges and by showcasing the key role women can play in politics and good governance. The aim is to increase their chances of being nominated from various political parties as well as winning any elected positions they would contest for in the future.
---
Wurie Bah is WFD's Programme Coordinator in Sierra Leone